Looking for a Quick Way to Eat Healthy?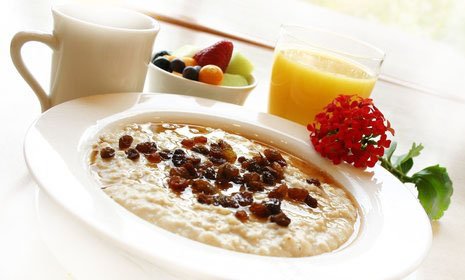 Time can be a problem. How many times have you heard that breakfast is the most important meal of the day? Countless studies have shown that adults don't perform as well at work when they're not properly fueled with their breakfast and the same goes for kids who go to school hungry. Yet, the excuses people make for not eating this first meal of the day are endless. One of the most common excuses are not having enough time. If you're looking for the best advice to help you whip up breakfast in a flash read on. While assuring you get the biggest nutritional boost for your efforts, here's some sage advice. Most noteworthy, here is  how to start your day with good food nutrition when pressed for time. These five-minute meals prove that adding a nourishing breakfast to your daily routine will be beneficial. Breakfast doesn't have to be stressful or time-consuming — no more excuses to skip breakfast!
Think Outside the Breakfast Box for Food Nutrition:
If you're looking for a quick combo of sweet, creamy, and a satisfying breakfast, my "easy, breezy breakfast consists of a banana with two teaspoons of peanut butter accompanied by 8 ounces of organic, low-fat chocolate almond milk." What makes the dish so potent is that "it hits three important nutrients: protein (from the milk and the peanut butter), fiber (from the banana and the peanut butter), and calcium (from the milk)". Most noteworthy, the recipe couldn't be any simpler. All it takes is peeling the banana, spreading on the peanut butter. Sticking the straw into the box of chocolate almond milk and wa-la! I really love peanut butter because you can add it to a lot of breakfast foods. Almond butter is also very good to add if you're looking for a different flavor.
Protein at breakfast helps fill you up in the morning and keeps you feeling alert throughout the morning. That's why when time is tight I turn to eggs for my food nutrition for breakfast. My on-the-go breakfast consists of a sliced hard-boiled egg with some mashed avocado on a toasted whole-wheat English muffin. "This super quick and tasty breakfast offers protein from the egg and fiber from the English muffin for staying power from the egg and muffin while the avocado supplies antioxidants and healthy fats that keep you feeling fuller, longer.
Apply a Better Butter:
Almond butter has a creamy, decadent texture and the right go-to ingredient. In five minutes flat I can spread almond butter on a lightly toasted 100% whole-wheat sandwich thin. Furthermore, you can't beat a breakfast that's packed with fiber, protein, and healthy fat. If you're looking to add a touch of sweetness to your almond butter read on. Most noteworthy, if you have an extra minute, you can slice a banana atop the almond butter. If you're looking to get out the door quick, grab a banana and take it for added potassium and fiber. As long as your breakfast consists of a healthy combination of protein and carbohydrates you are good to go.
Get Creative with Avocado:
The avocado is a hot item amongst nutrition experts and there are ways to turn this fruit into a spread. In addition, the breakfast consists of mashed avocado on whole-grain toast and then adds sweet or savory touches. For a sweet start to your day, I suggest adding walnuts, raw honey, and cinnamon. Furthermore, kick start your morning with a more savory combo. I recommend adding an egg, crushed red pepper flakes, and sea salt.
Whether its pineapple, blueberries, or a mandarin orange, I will pair one of the three from the frig or whatever fruit I have on hand with cottage cheese or Greek yogurt for a protein-packed breakfast. Protein from the yogurt will give lasting energy which is the meal of the day. The vitamin, mineral, fiber, and phytonutrient content makes fresh fruit a smart morning pick. Therefore, yogurt or cottage cheese adds 15 grams of filling protein per serving for the meal of the day. To make the breakfast even easier in the morning, here are my recommendations. Avoid peeling and assembling the day of, by putting together three to four of these containers every few nights. In conclusion, you have them ready to grab and go."
My dependable comfort in a bowl breakfast has been the meal of the day served from the home since childhood. Whether its old-fashioned or steel-cut, oatmeal provides energy to carry you through your morning. In addition, you get the benefits of cholesterol-lowering soluble fiber and whole grains. If you're looking for more food nutrition from the meal, add a swirl of almond butter and chia seeds. Especially relevant, this will hike up the protein, along with dried fruit and a touch of cinnamon to enhance flavor. There's no need to cook oatmeal everyday you can find good quality instant types in the supermarket. In addition, you can cook up a big batch, refrigerate it, and then heat in the microwave when needed. Have you ever given overnight oats a try? In conclusion, oat meal or almond butter, peanut butter, or fruits can be a healthy quick breakfast. Those are a few tricks I've learned in the nutrition field. Well I hope that helped you in your quest for a quick breakfast. Take care and I will see you on my next article.
 To add to your food nutrition try our high quality weight loss products. To get your special offer just click a link! 
.